Marquee & Facade Campaign
Unfortunately, most of the building's signage has fallen into disrepair.
The back sign is rotting and a corner of it has delaminated.
The primary sign is corroding and nearing failure of the metal, many of the lights don't work and the letters are worn and faded.
Neither shadowbox functions correctly and have exposed and hanging wires and lights inside.
Thanks to sound financial management and your support, we have been able to weather the initial storm brought about by the COVID-19 pandemic and re-open our doors with our recent production of Ripcord. However, many challenges lie ahead.
At virtually every event we've hosted at PM&L, one or more guests have exclaimed, "I didn't even know this was here!" Despite being a fixture on the north end of Main Street for decades, who we are and what we do has not been clear to many in our community.
Looking up and down Main Street, we've seen the loss of some businesses and the addition of new ones. Our community is continually changing and our need to reach new patrons is more important than ever. To that end, we've engaged in several campaigns, including introducing online ticketing, revamping our website, and regularly hosting community events with partners. If the pandemic has taught us anything, it's that there are many forms of entertainment competing for every consumer's dollar; we need to reach new patrons to continue to grow and thrive.
One particular need identified, in addition to cash reserves expended during the pandemic, is the facade of our building and our signage. These include a sign in desperate need of service, shadowboxes in need of repair, and outdated and dilapidated signage on various exterior areas of the building.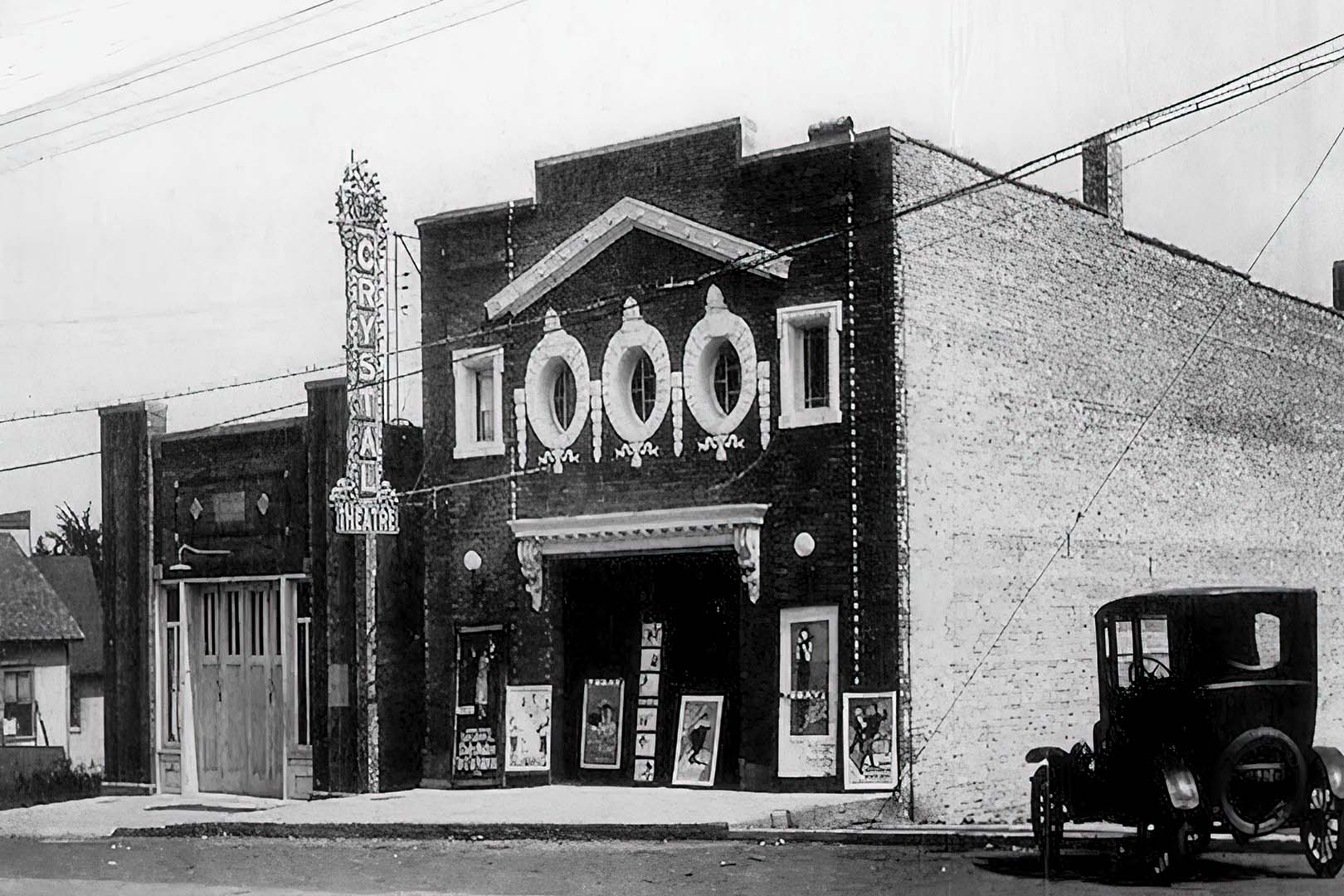 Our theatre began its life as the Crystal Theatre and was both a vaudeville stage and movie house. We looked to this history for inspiration when evaluating the need to replace and update our signage and better present ourselves to our community.
A few years ago, we consulted with the Illinois Historic Preservation Agency about our facade. They observed, "An internally lit box is not appropriate to a historic Main Street, and it does a disservice to your organization." To that end, we are currently working to identify a vendor to undertake a project to:
Add a vertical "blade" sign to our exterior, consistent with the original sign.
Provide better lighting for safety and to better indicate the entrance to the building.
Add a marquee sign with message boards more consistent with our building's heritage as a vaudeville and movie house.
Better unify the front of the building, which is comprised of two buildings built at different times.
Update, repair, and replace existing signage in need of repair.
Shore up cash reserves expended while operating at a deficit due to no income during the pandemic.
Through previous discussions with the Village of Antioch, we secured some matching funds for a marquee project. We're now in need of your donations to make this project a reality.
Your donation will help us transform how we look to the community, those unfamiliar with us, and our important work. Your gift would leave a meaningful and lasting impression for many years into the future.
We are still developing the details but will have both a rewards and recognition program for this campaign. Your early gift in support of our vision for a new look to PM&L would help us get started and, as all donations are tax-deductible, allow you to donate during the 2023 tax year.
We thank you for your support in the past and hope you will continue to support us and our vision for the future.
Fundraising Goal — $50,000