Sister Act the Musical
PM&L Theatre and director Darius Russelle are seeking a cast of 25 actors for our production of Sister Act the Musical,  based on the Touchstone Pictures Motion Picture of the same name written by Joseph Howard, with music by Alan Menken, lyrics by Glenn Slater, book by Bill and Cheri Steinkellner, and additional material by Douglas Carter Beane.
Auditioners must have completed their online audition form and reserved an audition slot prior to arrival. Auditions will be held on Sunday, December 4 from 6 PM until 9 PM, and Monday, December 5, from 7 PM until 9 PM,  at PM&L Theatre, located at 877 Main Street in Antioch, IL. Callbacks, will be held on Wednesday, December 7, starting at 7 PM.
Sister Act the Musical will open on Friday, February 17, 2023 and will run for four weekends until Sunday, March 12, 2023.
About The Production
Deloris Van Cartier is an aspiring singer in Philadelphia, where she is auditioning to perform at her gangster boyfriends nightclub. Deloris believes that Curtis is going to introduce her to a big producer, but is upset when he tells her she is not ready. Hurt and rejected, Deloris decides to break up with him, but when she goes to find him she accidentally sees him kill one of his cronies. Deloris runs to the police, who place her in hiding at a convent until Curtis is brought to trial. At first, Deloris feels as though it will be the worst thing in the world, chafing against the constraints of convent life and an immovable Reverend Mother, but once she is introduced to the struggling choir at the convent, everything changes. She finds that many of the nuns at the convent are not that different from her, and that they are quite fun to be around. They help give her a bigger purpose in her life, showing her a genuine love and affection that was missing prior to her arrival at the convent. Sister Act is a joyous show that uses music to bring different communities, and lifestyles, together.
"It's hard to imagine anyone heading to "Sister Act" and not having fun. If it's laughter you most want right now, and who could blame you, this is your good-time show." – Chicago Tribune 
"Big, glitzy numbers . . . with nuns! "Sister Act" has plenty of both — and it's one of the season's happiest surprises." NY Post 
"'Sister Act' could be habit forming" Valdosta Daily Times
Book

Cheri Steinkellner, Bill Steinkellner

Music

Alan Menken 

Lyrics

Glenn Slater

Additional Material

Douglas Carter Beane 

Based On the Screenplay

Sister Act by Joseph Howard

Director

Darius Russelle

Producer

Randy Margison
Audition Scheduling
Complete the audition form below.
After completing your form you will be emailed a link to schedule your audition. It is important you use this link in order to schedule your proper audition time slot.
If you don't immediately receive your email check your spam or promotions folder for an email from [email protected]
Email us at

[email protected]

if you continue to have any difficulty.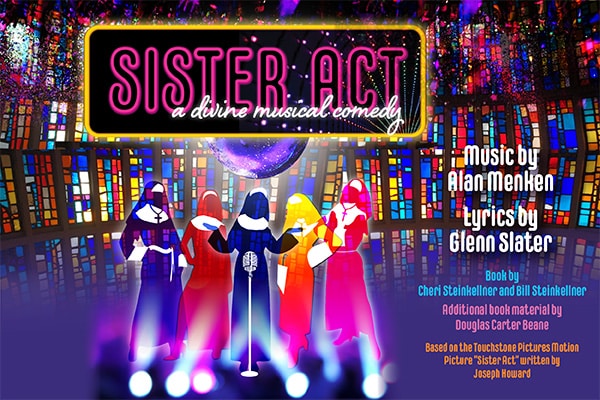 About PM&L
As stated in the preamble to our bylaws:
The purposes for which the corporation is organized are: to promote the fine arts by producing plays, art exhibits, music concerts, musical comedies and instructing the same. PM&L, Inc. does not discriminate against any prospective member or participant because of his or her race, color, religion, sex, national origin, ancestry, age, order of protection status, marital status, physical or mental disability, military status, sexual orientation, pregnancy, or unfavorable discharge from military service.
Available Roles
Deloris Van Cartier
An aspiring performer, trying to find both fame and a place in the world. When forced to hide in
the convent, she initially refuses to embrace her new lifestyle but learns to embrace it when she
works with the choir. Loud-mouthed, and sassy, but ultimately caring.
Gender: Female
Mother Superior
The head of the convent, sarcastic and a bit stiff. Extremely protective about keeping her sisters
away from the outside world, which puts her in direct opposition to Deloris and her musical
teachings.
Gender: Female
Sister Mary Robert
A postulant, abandoned as a baby and raised at the convent. Shy and soft-spoken, but singing
with Deloris lets her find her voice. Her wallflower lifestyle has made her live a shell of a life.
Gender: Female
Sister Mary Patrick
A nun of the convent. Consistently perky, enthusiastic, and easily excitable.
Gender: Female

Sister Mary Lazarus
A nun of the convent and the head of the choir. Rather deadpan and the least welcoming of any of the nuns, but she gets caught up in Deloris's soul music.
Gender: Female
Monsignor O'hara
One of the heads of the convent. Constantly concerned with financial matters, though soul music surprisingly puts him in a different mood.
Gender: Male

Curtis
A club owner, notorious gangster, and Deloris's boyfriend. Cocky and controlling, always on the verge of violence.
Gender: Male

Eddie Souther
The desk chief at the Philadelphia police station and a high school classmate of Deloris who helps get her into hiding. Faces a lot of nerves when under pressure, causing him to sweat profusely. He still yearns for Deloris after all these years, and dreams of being her hero.
Gender: Male

Tj
Curtis's nephew and one of his thugs. Deft and cognizant of the fact, constantly in a state of ignorant bliss.
Gender: Male
Joey
One of Curtis's thugs. Believes himself to be quite the ladies' man.
Gender: Male
Pablo
One of Curtis's thugs. A natural follower, constantly speaks in Spanish.
Gender: Male

Sister Mary Martin-of-tours
A nun of the convent. Clearly in her own world, but has her moments of surprising clarity.
Gender: Female

Sister Mary Theresa
A nun of the convent, the oldest of the group. Decrepit at a glance, but secretly packs a punch.
Gender: Female

Michelle
One of Deloris's back-up singers. Lippy and always quick with a retort.
Gender: Female

Tina
One of Deloris's back-up singers. A little thick and naive.
Gender: Female

Ernie
One of Curtis's thugs. Initially thought to be a mindless yes-man, he turns out to be an undercover police informant.
Gender: Male

Ensemble
Nuns; Bar Denizens (Bar Patron, Waitress, Pool Player, Drag Queen); Homeless People; Fantasy Dancers
Audition Notes
Please prepare both a one minute comedic monologue and a song of your choice. The monologue and song do not need to be memorized. Please note that a song sung from the show is encouraged and please choose a song that can best showcase your singing ability. Be prepared for some cold reads during your initial audition from the script.