A Christmas Story
PM&L Theatre and director Regina Reynolds are seeking actors for our production of A Christmas Story by Philip Grecian, based on the motion picture A Christmas Story, ©1983 Turner Entertainment Co., distributed by Warner Bros., written by Jean Shepherd, Leigh Brown, and Bob Clark; and on the book In God We Trust, All Others Pay Cash by Jean Shepherd.
Auditioners must have completed their online audition form and reserved an audition slot prior to arrival. Auditions will be held on Sunday, September 25, from 1 PM until 6 PM, Monday, September 26 and Wednesday, September 28, from 7 PM until 9 PM, at PM&L Theatre, located at 877 Main Street in Antioch, IL. Callbacks, if necessary, will be announced later.
A Christmas Story will open on Friday, December 2, and will run for three weekends until Sunday, December 18, 2022.
About The Production
Humorist Jean Shepherd's memoir of growing up in the midwest in the 1940s follows 9-year-old Ralphie Parker in his quest to get a genuine Red Ryder BB gun under the tree for Christmas. Ralphie pleads his case before his mother, his teacher and even Santa Claus himself at Higbee's Department Store. The consistent response: "You'll shoot your eye out!" All the elements from the beloved motion picture are here, including the family's temperamental exploding furnace; Scut Farkas, the school bully; the boys' experiment with a wet tongue on a cold lamppost; the Little Orphan Annie decoder pin; Ralphie's father winning a lamp shaped like a woman's leg in a net stocking; Ralphie's fantasy scenarios and more. A Christmas Story is destined to become a theatrical holiday perennial.
Audition Notes
Audition Preparation
Auditioners may present a one minute (or less) memorized nursey rhyne, they will then do cold readings from the script.
Audition Scheduling
Complete the audition form below.
After completing your form you will be emailed a link to schedule your audition. It is important you use this link in order to schedule your proper audition time slot.
If you don't immediately receive your email check your spam or promotions folder for an email from [email protected]
Email us at

[email protected]

if you continue to have any difficulty.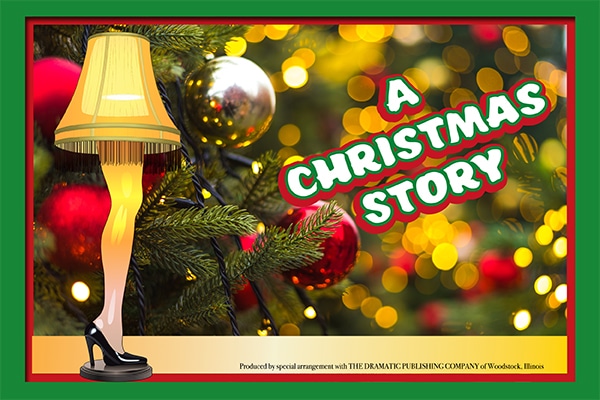 About PM&L
As stated in the preamble to our bylaws:
The purposes for which the corporation is organized are: to promote the fine arts by producing plays, art exhibits, music concerts, musical comedies and instructing the same. PM&L, Inc. does not discriminate against any prospective member or participant because of his or her race, color, religion, sex, national origin, ancestry, age, order of protection status, marital status, physical or mental disability, military status, sexual orientation, pregnancy, or unfavorable discharge from military service.
Available Roles
All roles are listed with their approximate stage age.
Ralph

Adult narrator, Lead, 35-60, is present throughout the show, reads from a script on a podium and memorizes some interactive scenes where we find him with the other actors.

Mother

Lead, 30-45, is in most scenes — she is smart, patient, in charge of the kids and the house. She is a bit more sensible than her husband the Old Man, but not much.

The Old Man

Father, lead, 35-45, is in most scenes — he is boisterous, acts confident but can bumble, and attracts neighbor dogs always wanting to play. He seems preoccupied yet takes his jobs seriously such as keeping the car running and like fighting the furnace daily to get his money's worth.

Ralphie

Narrator as a child, Lead, 9-12 — takes life seriously and wants to live it to the fullest. He is observant of adult behavior which can be a detriment. He is hoping to be a great sharpshooter to protect the neighborhood and his family. His quest for the perfect Christmas gift, the Red Rider Triple Barrel Action Shot Rifle will help him do that.

Randy

Kid Brother, Major, 7-10, is in most family scenes — acts, reacts, and has something to say once in awhile. Good whiner, giggler, full of awe child.

Miss Shields

Major, 30-60, firm, caring, rule-following teacher who keeps a managed, attentive class. Punctuation and borders are her friends.

Flick

Childhood friend, minor, 9-12, energetic boy with lots of things to say and share. Constant sore arm from scrapes he gets into.

Schwartz

Childhood friend, minor, 9–12, smart aleck boy with plenty of energy and a healthy caution with girls.

Esther Jane Alberry

Childhood friend, minor, 9–12, kind, observant girl who does not mind that boys are different or strange.

Helen Weathers

Childhood friend, minor, 9-12, smart, ahead of her time girl who isn't intimidated by boys.

Scut Farkas

Childhood bully, minor, 9-14, a scary boy who is happy to terrorize his peers. Epic bully tactics and misery with an evil, triumphant laugh.

Santa Claus

Minor, 20–70, beard hides much – jolly and larger than life.
Stage Hands / Ensemble
Minor roles, 12-18 year olds or even some adults who can play the doubled part roles listed below and do some scenery movement:
Cowboy
Desperadoes
Black Bart
Tree Salesman
Neighbor
Delivery Guy