Book by Richard Nelson, Lyrics by Tim Rice,
Music by Bjorn Ulvaeus and Benny Andersson
East meets West in a rock opera that turns the ancient game into a metaphor for love won and lost during the cold war.
About The Show
The collaborators on Chess are giants of rock music and rock musicals, and here they have created a complex rock opera that played to full Broadway houses and standing ovations. In this musical, the ancient game becomes a metaphor for romantic rivalries, competitive gamesmanship, super-power politics, and international intrigues. The pawns in this drama form a love triangle: the loutish American chess star, the earnest Russian champion, and a Hungarian American female assistant who arrives at the international chess match in Bangkok with the American, but falls for the Russian. From Bangkok to Budapest the players, lovers, politicians, and spies manipulate and are manipulated to the pulse of a monumental rock score that includes "One Night in Bangkok" and "Heaven Help My Heart."
Freddie Trumper

Jeffrey DuBois

Anatoly Sergievsky

Michael Metcalf

Florence Vassy

Rebecca Zellar

Alexander Molokov

Mark Badtke

Walter DeCourcey

Matthew J. Leptich

Arbiter (First and Third Weekends)

Kevin Pollack

Arbiter (Second Weekend)

Sean Walker

Svetlana Sergievsky

Jessica Augustine

Nikolai

Ryan Bavido

Gregor Vassy

Paul Bleadow

Young Florence

Madeline Booth

Prologue Ensemble

Shirley Austin
Erin Booth
Izabella Booth
Debra Gass
Tom Hausman
Quinn Hausman-Chapman
Fran Jansta
Trish Jansta Rollie Hinz
Valerie Hinz
Jeff Louis
Joanne Louis
Paula Mantas
Judith Perryman
Oscar Scharrer
Kenelm Scheske
Bryce Swaim
Sheila M. Wright
Iva Trocke
Connie Wurster


Main Ensemble

Patrick Blake
Jessica Buehler
Matthew Craig
Caryl Davidson
Alexis Dreyer
Cristianna Formeller
Lynnea Fredrickson-Smith
Jamie Gross
Dawson Hansen
Fran Jansta
Trish Jansta
Michele MacLennan
Karen Osborne
Susie Perkowitz
Kenelm Scheske
Hilary Schneider
Monica Stark
Julian Wilkerson
Connie Wurster

Book

Richard Nelson

Lyrics

Tim Rice

Music

Bjorn Ulvaeus and Benny Andersson

Director

Lorrie Ferguson

Producer

Regina Reynolds

Assistant Director

Darius Russelle

Stage Manager

Kathleen LeFave

Vocal Director

Kenzie Connor

Music Director

Paul Bleadow

Choreographer

Colleen Walker

Costume Design

Jean Newton

Lighting Design

Ken Scheske

Sound Design

Gene LeFave

Scenic Design

Art Jones

Videography Design

Gary L. Luz

Videography Assistant

Leah Swaim
Produced by special arrangement with Samuel French, New York, New York.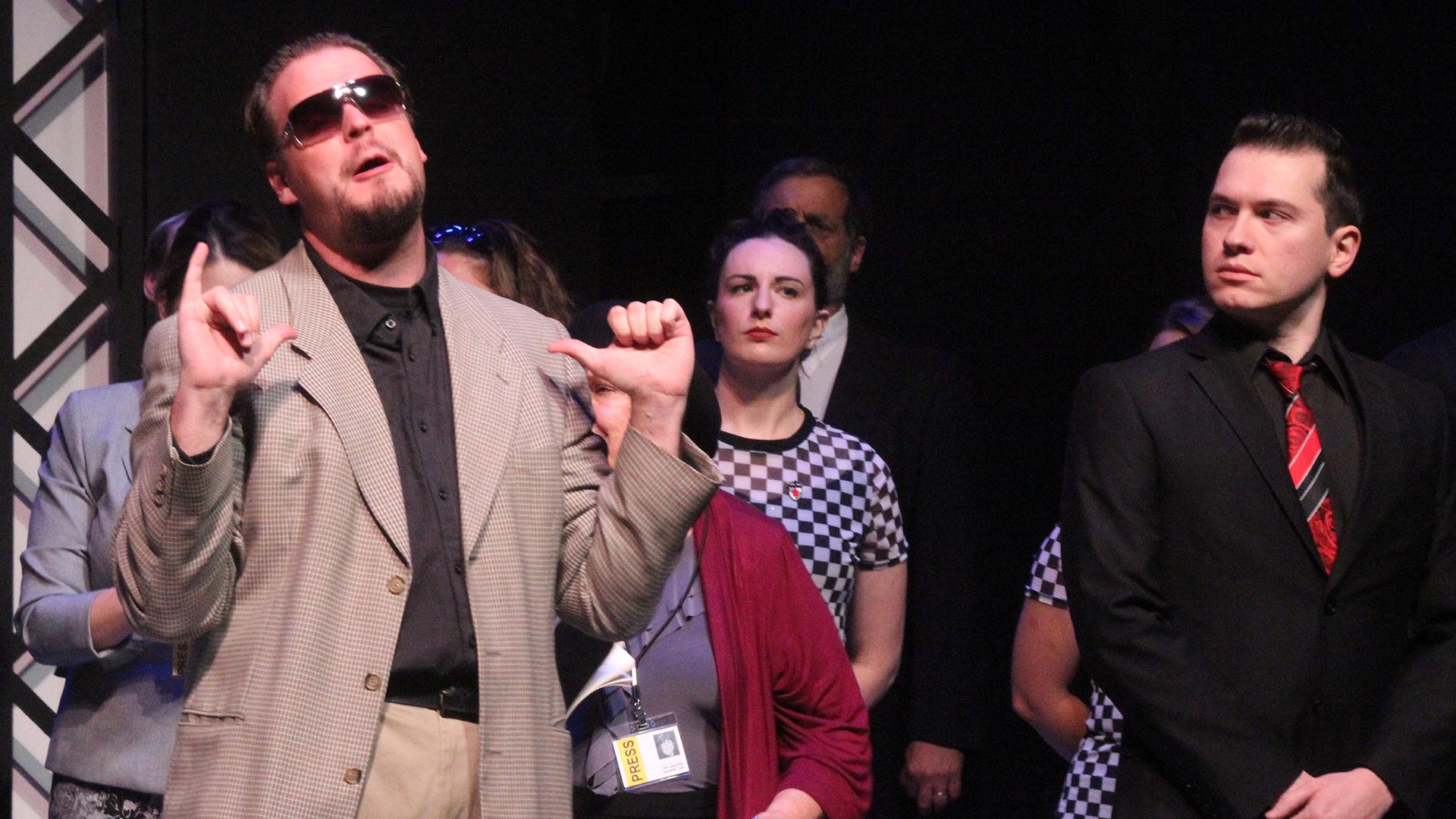 Chess
The Northwest Herald sent reviewer Regina Belt-Daniels to take in our latest production, Chess, and had lots of praise for many of the performances. See
Chess may be categorized in the theater world as a beleaguered seldom done musical, but I still like it a lot, and it's well worth the drive to Antioch.
Credit the PM&L Theatre in Antioch for having the courage to excavate the underrated opus in a fully-staged format.
"One of the best rock scores ever produced. This is an angry, difficult, demanding and rewarding show."