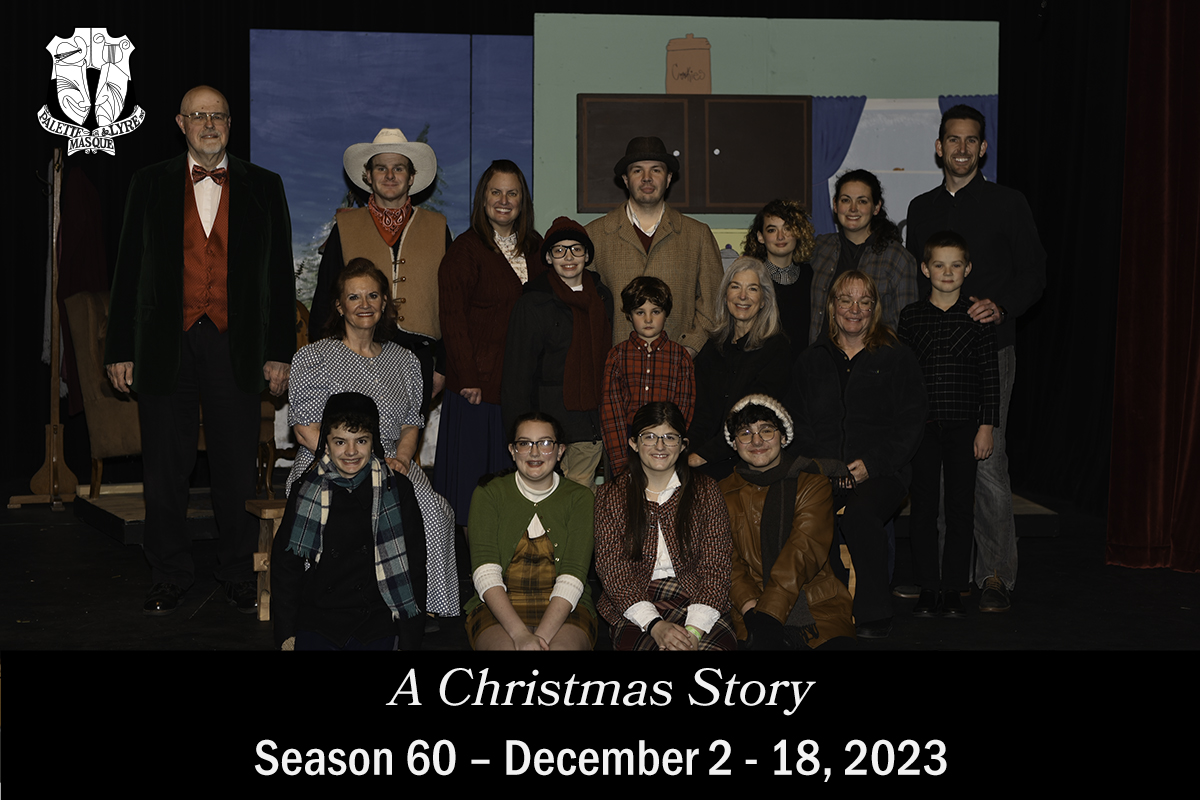 "Grecian's script retains Shepherd's wry, tongue-in-cheek humor." — Orange County Register
Produced by special arrangement with THE DRAMATIC PUBLISHING COMPANY of Woodstock, Illinois.
Ralphie Parker
    Brycen Richter +
    Everett Poe *
Ralph Parker
    Randy Margison
Esther Jane Alberry
Penny Badtke +
Kiera Koczorowski *
Flick
Cooper Stavrou +
Lily Honaker *
Helen Weathers
Lily Turner
Miss Shields
Roseanne Mader
Mother
Janice Zimmerman
Schwartz
Justice O'Dowd
The Old Man
Kevin Kelly
Randy 
Danica Larson +
Clara Poe *
Santa Claus 
Jim Kelleher
Scut Farkus 
Dakota Walk
Black Bart & Leg Lamp Delivery Man
Kyle Poe
Red Ryder
Matthew Craig
Ensemble 
Hailey Badtke
Matthew Craig
Elliot Joung
Olivia Steffen
+ indicates Candy Cane Cast
* indicates Jingle Bell Cast
Author

Philip Grecian

Based On

The motion picture A Christmas Story, ©1983 Turner Entertainment Co., distrbuted by Warner Bros., written by Jean Shepherd, Leigh Brown, and Bob Clark; and on the book In God We Trust, All Others Pay Cash by Jean Shepherd.

Director

Regina Reynolds

Producer

Darius Russelle

Stage Manager

Janice Albrecht

Set Designer

Art Jones

Set Construction

Jim Sands


Matthew Craig

Set Painters & Dressers

Regina Reynolds


Miranda Monticelli

Light Design 

Ken Albrecht

Light Tech

Ken Albrecht

Sound Design 

Gene LeFave

Sound Tech

Ken Albrecht

Costume Coordination 

Regina Reynolds
Lindsey Yates-Badtke

Props

Janice Albrecht

Fight Captains

Adam Armstrong
Isaac Armstrong

Puppet Crafter

Kathy LeFave
Mitten & Scarf Crafter Emilia Reynolds
Michelle Self

Photography

Iva Trocke
Glenn Szalkowski
Humorist Jean Shepherd's memoir of growing up in the midwest in the 1940s follows 9-year-old Ralphie Parker in his quest to get a genuine Red Ryder BB gun under the tree for Christmas. Ralphie pleads his case before his mother, his teacher and even Santa Claus himself at Higbee's Department Store. The consistent response: "You'll shoot your eye out!" All the elements from the beloved motion picture are here, including the family's temperamental exploding furnace; Scut Farkas, the school bully; the boys' experiment with a wet tongue on a cold lamppost; the Little Orphan Annie decoder pin; Ralphie's father winning a lamp shaped like a woman's leg in a net stocking; Ralphie's fantasy scenarios and more. A Christmas Story is destined to become a theatrical holiday perennial.